Mortgage Forbearance: How To Make Up Your Missed Payments
Read our helpful guide The SCOOP! Blog
News
-
updated: Apr 8, 2020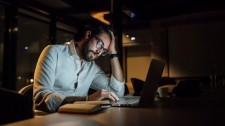 Homeowners across the country are seeking mortgage forbearance as unemployment numbers continue to rise amid the coronavirus pandemic.
Mortgage forbearance requests have poured in, increasing by a staggering 1,896 percent between March 16 and March 30, according to the Mortgage Bankers Association's Forbearance and Call Volume Survey. Forbearance simply means the lender allows you to pause payments due to financial hardship.
While this relief is immediate and necessary, many worry about repaying what they owe once the forbearance period ends. It's important to keep in mind that borrowers are responsible for repaying the full forbearance amount as well as interest on the payments that were put on hold. However, there are no penalties and forbearance will not affect your credit score.
If forbearance is the best route, the good news is that there are several repayment options, but that depends on who owns your loan.
Here we'll go through the basics about repaying what you owe after the mortgage forbearance period ends:
Identifying who owns your loan and what that means
Repayment options for government-backed loans
Repayment options for privately owned loans
Identifying who owns your loan (and what that means)
The first step in knowing what your mortgage forbearance repayment choices are is to know who owns your loan.
There is a difference between who services your loan and who owns it. A mortgage servicer is in charge of the administrative aspects of your loan, such as receiving your monthly payment, handling escrow accounts, getting copies of your statement and other similar tasks. You might have a loan serviced by Wells Fargo, but owned by Fannie Mae. One easy way to find out who owns your loan, as well as what options are available to you, is to ask your service provider.
The loan owner is in charge of forbearance options, which is why it's so important to know who that is.
As of now, borrowers with government-backed mortgages are allowed a maximum 12 months of mortgage forbearance under the Coronavirus Aid, Relief, and Economic Security (CARES) Act. These are home loans owned by Fannie Mae or Freddie Mac (which make up about half of all mortgages in the U.S.); or insured by HUD, the VA, or the USDA.
You can find out if Fannie Mae or Freddie Mac own your mortgage here:
For borrowers whose mortgages are backed by private entities, the forbearance plan varies depending on the lender. Bank of America, for example, is automatically offering deferrals until the coronavirus is over, says a Bank of America spokesperson.
There are many states that have implemented relief plans, which include help for homeowners. So, be sure to check your state government's website to get current information on homeowner relief.
Repayment options also differ depending on whether you have a government-backed mortgage or a mortgage owned by a private lender, such as Bank of America or Quicken Loans.
Repayment options for government-backed loans
For borrowers with Fannie Mae- or Freddie Mac-owned loans; or insured by HUD, the VA, or the USDA, there are several ways you can handle paying back what you owe.
If you take the full forbearance allowed, you can defer mortgage payments up to a year, which means you'll have to repay one year's worth of mortgage and interest. Here are the different types of repayment plans available:
Lump-sum payment
A lump-sum payment means that you would pay back the entire amount you owe in one lump sum. This is an option, but certainly not mandatory. And it may be impossible for folks who have come off of a spell of unemployment to come up with the cash, which could be tens of thousands of dollars.
Short-term repayment plan
A short-term repayment allows you to repay your forbearance amount over the course of six months. For example, if you postpone mortgage payments for five months and your monthly mortgage payment (including interest) is $1,000, then you owe $5,000. That amount would be divide by six, which is $833.33. So, when you resume making monthly mortgage payments of $1,000, you would also pay $833.33 for six months until your mortgage is current again.
Extended loan modification
This repayment plan extends your mortgage term by taking the amount you owe and tacking it on to the back of your loan. For instance, if before your forbearance you had 15 years left on your loan and you postponed payments for five months, your new term would be 15 years and five months. This option changes no part of your loan except for the term.
Flex modification
A flex modification is designed for borrowers who can't afford the mortgage at their current interest rate and/or term. If this is the case, your lender will work with you to modify your loan so that it's affordable for you. The possibilities for this are many, and so are the implications, so tread carefully here and consider seeking professional advice.
Cap and extend
For borrowers who can't afford insurance or taxes (which are often paid through escrow accounts funded by borrowers), the lender will make these payments on your behalf during the forbearance. After the forbearance period is over, the amount the lender paid would be applied to your principal balance and the term would be extended. In this instance, if a lender paid $5,000 in escrow payments and your balance is $100,000 over 30 years, your new balance would be $105,000 with a new term of 30 years and six months.
Repayment options for privately owned loans
Borrowers with privately-owned mortgages are not covered under the CARES Act. However, government entities are encouraging lenders to work with their customers on manageable repayment plans.
And most lenders are motivated to offer consumers repayment options that they can afford. Some lenders, like Bank of America, are automatically tacking the amount owed to the back of the loan. This way borrowers can resume paying their mortgage without having to worry about extra charges or larger monthly payments. That said, borrowers still have the option to make a lump sum payment to bring the mortgage current.
Since each lender is different, borrowers should talk to their lender as soon as possible about the types of repayment programs available to them. Knowing what your options are can help you come up with a plan of action sooner.
It's doubtful, according to many mortgage experts, that private lenders will only offer lump-sum options. Borrowers can expect to have some kind of long-term repayment solution available to them.
Source: To view the original article click here
---
Categories: Mortgages and Loans, Real Estate, Financial and Insurance Services
---
ChangeMyRate.com 'Refinance or Apply For A Mortgage Online'
4320 Atlantic Avenue (216)
Long Beach, CA 90807
United States