FHA, VA Offer Lowest Mortgage Rates for Good Credit, Low Down Payment Borrowers
For any American looking at the loan types, you need to sit down with your loan officer and go through all the different variables of each loan and choose the right one for yourself.
News
-
updated: Jun 9, 2020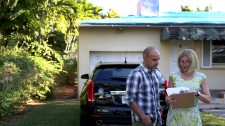 Some of the lowest mortgage rates currently available can be found on FHA and VA loans for some types of borrowers with a credit score of 700 or higher.
These government-backed programs are a way to get in on ultra-low mortgage rates with little-to-no down payment. The downside is the fees associated with FHA and VA loans.
But if private mortgage insurance (PMI) is inevitable for borrowers with a low down payment, the question is whether paying those fees for an ultra-low mortgage rate from a government-backed program could be worth it in the long run.
FHA loans charge 1.75 percent of the loan amount up front plus a variable annual fee for the life of the loan. VA loans have an upfront VA funding fee of 1.25 percent to 3.3 percent of the loan amount. Conventional loans charge PMI with a down payment lower than 3 percent until you reach 20 percent equity. PMI payments can cost .55 percent to 2.25 percent of the original loan amount each year, according to data from Ginnie Mae and the Urban Institute.
Overall, low-down payment conventional loans from Fannie Mae and Freddie Mac could be the better option for many homebuyers, and possibly the least expensive.
"FHA was more prevalent from years 2008-2011 for Americans with 700-plus FICO scores because that was the only low-down payment loan in America then," says Logan Mohtashami, senior loan officer for AMC Lending Group. "Now, the GSE's (government-sponsored enterprises) provided their loan down payment loans with better mortgage insurance payments."
But don't rule out FHA or VA loans as an option. It's important to do the math for your particular situation — you can use a mortgage calculator to help out.
"For any American looking at the loan types, you need to sit down with your loan officer and go through all the different variables of each loan and choose the right one for yourself," says Mohtashami.
Credit score and mortgage rates
Keep in mind that while your credit score has a big influence over the mortgage rate you'll get, it's not the only factor at play.
"You don't always need a perfect credit score to get the best rate," says Kevin Parker, vice president of Field Mortgage at Navy Federal. "Some lenders are relationship-based in their underwriting, so if you've paid your bills on time and have a good track record with them, they may be able to connect you with the lowest rate, even if your credit isn't perfect."
Other factors that influence your credit score include your down payment amount, loan type, loan term, loan amount, closing costs, interest rate type and property location.
Consider all of your financing options
"Borrowers have more options than ever before to help them make the most of their home buying budget," says Parker.
Not all lenders require private mortgage insurance on low-down payment loan types. Navy Federal Credit Union, for example, doesn't require a down payment or private mortgage insurance on its VA loan.
Of course, you need to be able to meet the qualifications in order to get a VA loan in the first place. But the point is that lenders differ in their requirements, making it important to explore all of your choices.
"Start by having a conversation with a lender you can trust," says Parker.
He suggests asking them if they will service for the life of the loan and how they structure their fees, since sometimes a lower interest rate will be accompanied by higher-than-average fees.
"In the end, it pays to do your homework, find a lender who offers mortgages that don't require PMI, and make sure they're willing to be your partner in this journey that is homeownership," says Parker.
---
Categories: Lending and Borrowing, Mortgages and Loans, Real Estate
Tags: buy a house, credit, fha, home buyer, housing, interest rates, mortgage, preapproval, real estate, va
---
ChangeMyRate.com 'Refinance or Apply For A Mortgage Online'
4320 Atlantic Avenue (216)
Long Beach, CA 90807
United States