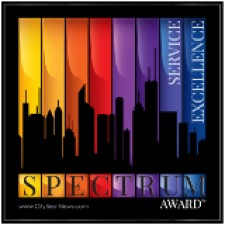 Five-star Customer Service Rating Bestowed for The Second Straight Year!
Long Beach, CA, January 19, 2017 (Newswire.com) - ChangeMyRate.com A Mortgage Corporation (http://www.changemyrate.com) announced today for the second consecutive year City Beat News has proudly awarded the Spectrum Award For Excellence in Customer Satisfaction based on Independent Research by CBN.
The fast-growing company's Senior Vice-President, John P. Salinger notes, "Winning this coveted award the first time was a real benchmark for our team members." However, being recognized by our customer reviews, surveys, blogs and social media content as a customer service leader again this year -  well that lets us know we are on the right track. We will continue to strive for excellence and customer satisfaction even as we expand into new and highly competitive markets this year.
In a corporate culture of instant surveys and immediate customer experience ratings, the reality is the customer is in charge now more than ever before. ChangeMyRate.com seems to have stepped ahead of the curve on this trend where mortgage loans are concerned.
Salinger goes on to say, "We strive to replicate 5-star service with each borrower."  It's really a matter of principle with us, our clients deserve not only the latest and most user-friendly technology but old-fashioned customer service as well.
We want our client's to know there is a real person behind the computer screen who is dedicated to making their home loan experience the best in the world. We want our borrowers to share their experience with others.
To apply to any ChangeMyRate.com position, please visit http://www.changemyrate.com/careers
About ChangeMyRate.com
Long Beach-based ChangeMyRate.com A Mortgage Corporation is a full-service mortgage company (http://www.changemyrate.com/about-us) which offers customers a range of quality products and services to suit their needs.  The company expects 2017 to be a YEAR OF GROWTH by expanding its operation to all 50 states.
ChangeMyRate.com's understanding and experience in the Industry are unparalleled.
For more information on the company's notable achievements, services provided, key leadership or history, visit our website www.changemyrate.com.
Contact
Jackie A. Graves, President​
​ChangeMyRate.com A Mortgage Corporation
​Long Beach, CA 90807
562-981-7700
855-671-7700
jackie.graves@changemyrate.com
Source: ChangeMyRate.com A Mortgage Corporation