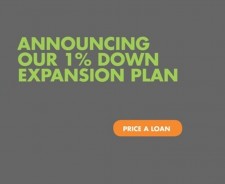 New program offers borrowers better savings, more favorable payments than FHA product
LONG BEACH, Calif., September 7, 2017 (Newswire.com) - ChangeMyRate.com has announced a new program enabling consumers to purchase homes with as little as 1% down, making it one of the first independent mortgage companies in the country to offer a conventional 1% down program homebuyers. ChangeMyRate.com will provide eligible homebuyers with a 2% lender-paid down payment that gives consumers a 3% equity boost at closing.
"The 1% down program we're making available to clients is a new alternative to the 3% down programs that already exist," said Jackie A. Graves, President of ChangeMyRate.com. "It's a conventional loan designed for borrowers with strong FICO scores who want to save money on their down payment and maximize their monthly discretionary income."
ChangeMyRate.com produced a video to highlight the program.
This Conventional 1% down program is available to homebuyers with a minimum FICO score of 700 and a maximum debt-to-income ratio of 43%. ChangeMyRate.com is one of the first independent mortgage companies in the U.S. to offer a 1% down-payment option in the form of a conventional loan, as opposed to a government-backed mortgage.
To learn more about the conventional 1% down program, visit Conventional Loan Products. 
About ChangeMyRate.com
ChangeMyRate.com is a full-service mortgage company (http://www.changemyrate.com/about-us) which offers customers a range of quality products and services to suit their needs.
ChangeMyRate.com's understanding and experience in the industry are unparalleled.
For more information on the company's notable achievements, services provided, key leadership or history visit our website at www.changemyrate.com.
Contact
Jackie A. Graves, President
ChangeMyRate.com A Mortgage Corporation
Long Beach, CA 90807
562-981-7700
855-671-7700
jackie.graves@changemyrate.com
Source: ChangeMyRate.com A Mortgage Corporation